Confederation College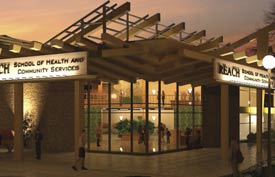 About Confederation College
Confederation College is a publicly-funded, post-secondary institution serving education needs in Northwestern Ontario. Established in 1967, Confederation College serves an area exceeding 550,000 square kilometers from the main campus in Thunder Bay and area campuses located in Dryden, Fort Frances, Geraldton, Kenora, Marathon and Sioux Lookout.
The main campus is situated on 130 acres of park-like property located right in the heart of the city of Thunder Bay, northwestern Ontario, Canada. The beautifully treed grounds, shallow, twisting river and network of walking paths provide a unique, country-like setting for an educational institution.
The college offers a full range of programs and educational services throughout the region; full-time post-secondary programs, part-time credit and non-credit courses, specialty programs for business and industry, pre-employment and skills training programs; apprenticeship programs and cooperative/workplace training programs. Many of these educational services utilize a combination of traditional and distance modes of delivery.
Confederation College offers over 50 postsecondary diploma and certificate programs, which include: Aboriginal Studies, Aviation, Business, Community Services, Health Sciences, Hospitality, Media Arts, Protective Services, Engineering, Technology and Trades, Graduate Programs.