College Boreal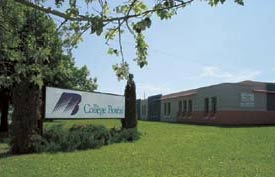 About College Boreal
College Boreal is a francophone College of Applied Arts and Technology based and with its principal campus in Sudbury, Ontario, Canada. It has a number of satellite campuses and liaison centres throughout Northern Ontario, Central Ontario and Southern Ontario.
As a dynamic institution, the main campus in Sudbury houses a resource centre, high-technology laboratories, high-tech classrooms, learning support services, a well-equipped sports centre, and day-care. This modern building greatly promotes access to computer networks (over 2300 connections).
A central location in Northern Ontario, the City of Greater Sudbury is renowned for its vitality, its services, and its industries. The City also benefits from major investments in fibre optic networks. Sudbury boasts large shopping centres and numerous large-scale businesses.
Sudbury is a vibrant French-speaking community: Théâtre du Nouvel Ontario, ��ditions Prise de parole, CBON, Le Voyageur newspaper, Contact Interculturel Francophone de Sudbury, le Carrefour francophone and a vast array of agencies which provide services throughout the region. Close to 30% of the population speaks French; in the suburbs, the proportion sometimes reaches over 50%.