Centennial College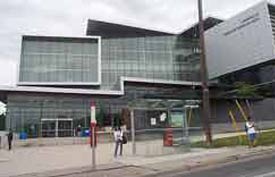 About Centennial College
Centennial College is Ontario's first community college, established in 1966, primarily serving the eastern portion of the Greater Toronto Area through four campuses and seven satellite locations. It has a record of exemplary teaching, innovative programming and extensive partnership building. Centennial is recognized as one of the most culturally diverse post-secondary institutions in Canada.
The Centre for Creative Communications, Centennial College, opened in the fall of 1994 as a campus dedicated to digital media is the home of nearly 750 full-time students enrolled in the School of Communications, Media and Design. Located in mid-town Toronto, just minutes from Pape Subway Station in the heart of Toronto's media cluster, The Centre is a meticulously restored, 104,000 square-foot modernist masterpiece serving as a dramatic backdrop for some 300 multimedia workstations and a full suite of digital imaging and editing facilities.
In addition to over 80 diploma and certificate programs (and over 1,000 part-time courses) we're offering degree studies " both applied degrees from Centennial, and collaborative degrees with selected university partners. Student opportunities just keep getting better!