Trent University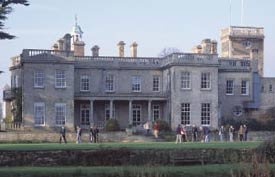 About Trent University
Trent University is a liberal arts and science-oriented institution located along the Otonabee River in Peterborough, Ontario, Canada. Trent University provides an exceptional learning environment where students earn a respected degree. Bright, articulate students seek Trent - and when they graduate, they're ready to make a difference in the world.
A young, innovative University, Trent was founded in 1964 on the belief that learning is an individual, life-long pursuit - and that student choice, flexibility, and the opportunity for interdisciplinary study are part of a high quality post-secondary education. These key principles continue to define Trent's unique character today.
Trent's close-knit campus welcomes more than 550 international students from over
100 countries. And each year, more and more Trent students take advantage of
study abroad programs at partner institutions the world over. You might choose
to study in Shanghai for a summer term or spend an academic year at one of the 35+ exchange universities.