St. Jerome's University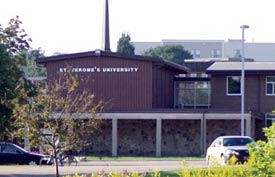 About St. Jerome's University
St. Jerome's University, situated in the heart of the University of Waterloo campus, is a public Roman Catholic university federated with the University of Waterloo. At St. Jerome's teaching excellence and undergraduate education are the highest priorities. The commitment to those priorities was recently recognized when St. Jerome 's was selected to participate in the Carnegie Academy for the Scholarship of Teaching and Learning ( CASTL ) Institutional Leadership Program.
St. Jerome's registers full-time and part-time students in the Faculty of Arts and the Faculty of Mathematics. Students enjoy the advantages of a small, vigorous academic community while having access to all courses, facilities, and services of the University of Waterloo and its affiliated Colleges: Conrad Grebel, Renison, and St. Paul's. Graduates receive a B.A or a B.Math. degree from the University of Waterloo.
St. Jerome's offers its students a wide range of courses informed by the latest scholarly research and supports their educational efforts with academic counselling, scholarships and bursaries, administrative services, library resources, information technology, and residences. St. Jerome's is also the centre for a vibrant Catholic community serving the campus and the region.