McMaster University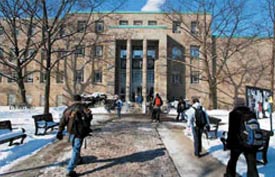 About McMaster University
McMaster University is a highly regarded medium-sized research-intensive university located in Hamilton, Ontario, Canada. McMaster's main campus is bordered to the north by Cootes Paradise, an extensive natural marshland, to the east and west by residential neighbourhoods and to its south by Main Street West, a major artery of Hamilton. Its northern boundaries are a popular destination for hikers and joggers who make use of the many trails that connect the campus to the RBG's lands.
During weekends, many students enjoy going to local pubs in the surrounding Westdale Village area or enjoy a party in the student housing on one of the many streets near the campus.
McMaster University students currently run one of the largest campus-based community websites that is dedicated to providing information to both current and prospective students about life at McMasters. For more information visit http://www.macinsiders.com/index.php.