Tyndale University College and Seminary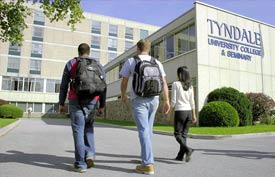 About Tyndale University College and Seminary
Tyndale is a trans-denominational, evangelical university college and seminary that prepares leaders for the ministry, marketplace and global mission of the church. Tyndale offers a variety of degree programs in a wide range of disciplines and fully accredited programs at both the undergraduate and graduate levels.
At Tyndale University College, students study towards the Bachelor of Arts (BA), Bachelor of Religious Education (BRE) degree or a Certificate in Christian Studies. The BA prepares graduates for dynamic careers, further studies in graduate or professional programs, and for life in general. The degree combines a strong liberal arts core, a focus on biblical and theological studies, and the opportunity to major in one of eight disciplines. The Bachelor of Arts degree offers majors in Business Administration, English, History, Human Services, Philosophy, Psychology and Religious Studies. The Bachelor of Religious Education degree has three ministry foci. It is a three-year, professional program designed to prepare graduates for ministry in local churches, para-church organizations or missions. BRE students may choose from General Ministries, Pastoral Ministry, Recreation Studies or Youth Ministry.
Tyndale Seminary offers three master's degrees in Theology, Divinity and Theological Studies as well as a graduate diploma in Christian Studies, Missions or Spiritual Formation. The Master of Divinity and Theological Studies are offered in both traditional and modular formats. The modular programs are designed for Christians in the marketplace and pastors who want to remain in full-time ministry while attending classes. Students are able to fit their academic schedule around their work, family, and church responsibilities.
Currently, there are over 1,200 students and 9,000 alumni. Founded in 1894, Tyndale is strategically positioned in a quiet residential enclave in north Toronto with easy access to the downtown. Toronto is Canada's most diverse city, and this diversity is reflected at Tyndale. We have more than 30 different ethnic groups represented and over 40 different denominations.