The University of Windsor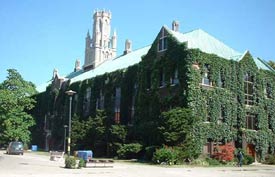 About The University of Windsor
The University of Windsor is a provincially-supported, coeducational, public university in Windsor, Ontario. The University of Windsor is located in Canada's traditional "automotive capital" across the border from Detroit.
The university strives to be a student-focused teaching and learning centre. It has developed a number of partnerships with local businesses and industry, including the multi-million dollar University of Windsor/Chrysler Canada Ltd. Automotive Research and Development Centre, the only research facility of its kind in North America.
Windsor offers more than 140 undergraduate and graduate programs across nine faculties: Arts & Social Science, Education, Faculty of Engineering, Odette School of Business, Graduate Studies, Faculty of Human Kinetics, Law, Nursing, and Science.
The university has the highest percentage of international students in its undergraduate population among all Canadian universities. International students make up approximately 10% of the student population; about 1500 students from more than 70 countries.