Huron University College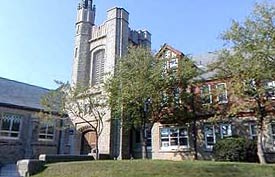 About Huron University College
Huron University College was founded Huron College on May 5, 1863 by Benjamin Cronyn and Isaac Hellmuth, as a low church alternative to the Anglo-Catholic University of Trinity College. It is one of the oldest university communities in Canada and founding college of the University of Western Ontario. Through its affiliation with Western, Huron offers a small, undergraduate-focused campus with full access to a major research university.
With just over 1,000 students, Huron is one of North America's smallest universities. You'll enjoy a welcoming campus community with small classes, an interactive learning environment and great opportunities to get involved in research. Faculty are focused on your success: In a recent graduate survey, over 90% of students say that instructors took an active interest in their learning.
First-year classes at Huron have an average of 45 students. Small classes encourage lively discussion, diverse opinions, and probing questions. You'll learn to be an independent thinker who can articulate and defend your ideas.