Michener Institute for Applied Health Sciences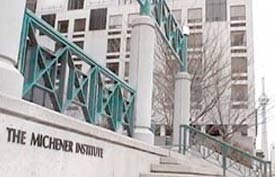 Michener Institute for Applied Health Sciences
The Michener Institute for Applied Health Sciences, founded under the name the Toronto Institute of Medical Technology, was created to respond to the educational requirements for health sciences professionals and for the continuing education of health care practitioners. A pilot program developed by hospital-based physicians and medical technologists in 1958 demonstrated the value of combining learning in an educational environment with clinical education in a teaching hospital.
This approach continues to prove itself valid, and all full-time programs offered by The Michener Institute today include educational preparation as well as clinical education at one or more affiliated clinical sites located throughout Ontario and beyond.
As a post-secondary, diploma and certificate granting institution, The Michener Institute is one among a few Ontario universities and colleges responding to the education needs in health care. The Michener Institute prides itself on its ability to provide current and innovative health care education and thus aims to address unmet educational requirements rather than duplicating existing programming offered by other post-secondary institutions in and outside of Ontario.
The current list of Academic Programs offered at Michener Institute for Applied Health Sciences are:
Anesthesia Assistant
Anesthesia Technology
Asthma Educator
Cardiovascular Perfusion Technology
Chiropody
Chronic Obstructive Pulmonary Disease (COPD) Educator
Clinical Laboratory Quality Manager
Clinical Research Associate
Diabetes Educator
Diagnostic Cytology
Genetics Technology
Lamaze Certified Childbirth Educator
Magnetic Resonance Imaging (MRI)
Medical Laboratory Science
Nuclear Medicine
Picture Archiving Communications System (PACS) Administrator
Radiation Therapy
Radiological Technology
Respiratory Therapy
Sleep Medicine Technology
Ultrasound