The University of Western Ontario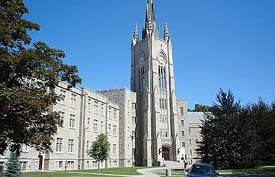 About The University of Western Ontario
The University of Western Ontario is a research university located in London, Ontario. It is one of Canada's oldest universities. Western is among Canada's leading universities and provides the nation's best student experience.
A vibrant centre of learning, Western is home to approximately 3,500 full-time faculty and staff members and approximately 30,000 undergraduate and graduate students. Through its 12 Faculties, and three affiliated Colleges, the University offers more than 400 different majors, minors and specializations.
Research is an integral part of the University's mission and external support for research projects totals exceeds $200 million per year. Western is located on 155 hectares of land along the banks of the Thames River in London, Ontario - a thriving city of 432,451 people, 200 kilometres west of Toronto.