Seneca College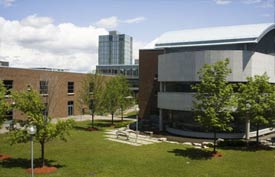 About Seneca College
Seneca is a national college that provides opportunity for all students in Canada and around the world. With a commitment to creating a dynamic, state-of-the-art learning and working environment, offering excellence in education, and building strong relationships with our students, partners and community, Seneca is providing students with the education they need to succeed.
Canada's largest college is a place of opportunities to make goals a reality. Students can choose from more than 260 careers and receive the academic foundation, workplace experience and practical training needed to succeed.
With campuses throughout the Greater Toronto Area, Seneca's size and diversity give students the advantage of partnerships with industry leaders, the latest in hands-on computer technology, and a variety of class sizes and methods of teaching " from in-class lectures and online learning to co-op and field placements " in applied arts, business, health sciences, and technology.
Leading areas of study include biotechnology, business, computer studies and health sciences. Seneca's accounting and finance, aviation, early childhood education, environmental, electronic engineering, fashion, fire protection, international business and marketing, law, and 3D digital animation programs have received national and international acclaim.
In addition to leading edge diploma, post-diploma and graduate certificate programs, Seneca offers five bachelor degrees. Seneca's bachelor degree programs offer students high quality education that responds directly to employer demands. Our Flight Training (Pilot), Environmental, Nursing, Software Development and Financial Services Management programs are rigorous, specialized bachelor degrees that combine practical hands-on experience with a solid theoretical foundation and include a co-op component to ensure students get work experience before graduation.