Dominican University College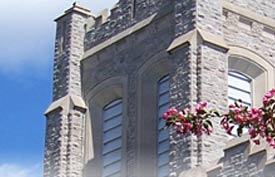 About Dominican College of Philosophy and Theology
The Dominican University College offers students a strong general education in philosophy, through the systematic study of the principal schools of thought as well as major philosophical themes.
In addition to the quality of student support and the competency of its teachers, the College is recognized for its approach of teaching original texts. Teachers guide students through great philosophers' works by reading directly the texts and not secondary literature. Students therefore acquire a rigorous method as well as self-confidence when dealing with authors and philosophical issues. One of the College's strengths is to allow students to situate philosophers and their ideas in history, understanding the environment that allowed ideas to develop and establishing the essential links that bind them. Students are then able to link new tendencies in modern philosophy to its rich sources and tradition.
The College is a Catholic institution, open to all schools of thought. Studies range from the Greek philosophers to Saint-Augustine and Saint-Thomas Aquinas, Descartes and Kant, and modern and post-modern philosophers, in an attempt to understand and link the various philosophical currents. The College is a place of dialogue, open to all avenues of thinking, in the great Dominican tradition of the exploration of knowledge.