Saint Paul University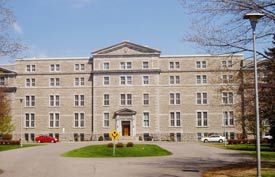 About Saint Paul University
Saint Paul University offers an alternative to large Canadian universities. Established in 1848 and federated with the University of Ottawa, Saint Paul University is now comprised of four faculties: Human Sciences, Philosophy, Theology and Canon Law. Our programs in 19 disciplines, range from undergraduate to doctoral level and are taught by internationally renowned professors.
Saint Paul University is also home to several specialized and research centres. These centres conduct world-class research and their presence on campus enriches student life with an ambiance of and quest for higher learning and excellence in their field of expertise.
At the heart of Canada's Capital, Saint Paul University student population benefits from all Ottawa's attraction: large libraries, national museums, research centres, and international events.