The University of Toronto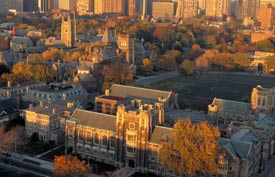 About The University of Toronto
The University of Toronto is a public research university in the city of Toronto, Ontario, Canada. The institution comprises sixteen academic faculties and a collegiate framework of eleven colleges within its principal campus St. George, which surrounds Queen's Park in the Downtown district. It is one of the most widely known and highly regarded universities in Canada and ranks highly in numerous world rankings.
There are 380 student clubs and organisations associated with the University of Toronto. One of the most notable is the Hart House Debating Club, home to one of the top-ranked debating teams in the world, and champions at the 2006 World Universities Debating Championship in Dublin.
Housing could be an issue for the downtown campus. Residences are usually expensive, but most provide a meal plan. Many find it more suitable to share an apartment with a friend off campus. The university housing services provides detailed information on various residences as well as housing ads for off-campus housing.
The university is represented in Canadian Interuniversity Sport by the Toronto Varsity Blues. There are six main sports funded by the university: hockey, football, basketball, track and field, soccer, and swimming. The numerous other sports are funded through donations and fees paid by those participating.