Ryerson University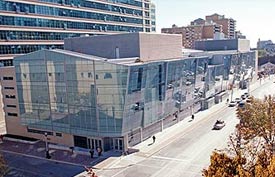 About Ryerson University
Ryerson University is a public university known for its excellence in Engineering, and Business studies located in downtown Toronto, Canada. Ryerson offers both professionally targeted programs - an area in which we lead among Canadian Universities and contemporary arts and science degrees.
The Ryerson campus features many new, state-of-the-art facilities. The latest addition, the Ryerson Business Building, is located on the street that defines Canadian business " Bay Street. What's more, the facility is home to the Ted Rogers School of Management, named in honour of a $15-million gift from prominent Canadian entrepreneur Ted Rogers and his wife Loretta.
Ryerson hosts more than 25 cultural associations and annual events. In addition, Ryerson has more than 75 student groups, plus intramural and varsity sports teams, an underground athletics centre and a thriving Student Campus Centre.