Canadian Memorial Chiropractic College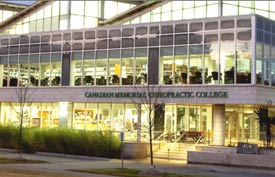 About Canadian Memorial Chiropractic College
The Canadian Memorial Chiropractic College is a Canadian chiropractic institute, established in 1945. It is currently the only Canadian chiropractic teaching institution for Anglophone students. CMCC was the first private college in Ontario to be granted degree-granting privilege, which is received in 2005; students now graduate with a Doctor of Chiropractic Degree, which is officially recognized as being on par academically with other doctoral degree professions such as medicine, dentistry, and optometry. CMCC does not teach a subluxation-based model of chiropractic, rather it teaches an evidence based medicine model which emphasizes research and critical thinking skills in the clinical decision making progress.
CMCC is currently a private university unlike Canada's other chiropractic programme at Universit�© du Qu�©bec �  Trois-Rivi�¨res, which is within a public university.
CMCCââ?¬â?¢s undergraduate program is four years of comprehensive and rigorous training that leads to a Doctor of Chiropractic degree. The curriculum is presented in a series of study modules ââ?¬â?? each dedicated to a specific anatomical region ââ?¬â?? with faculty working together to coordinate content and ensure understanding is comprehensive and complete. Combining lectures, labs, case studies and clinical internship provides a smooth transition from academic knowledge to problem solving for diagnosis, treatment and management of patientsââ?¬â?¢ conditions.
Chiropractic is one of the fastest growing professions in Canada ââ?¬â?? a rewarding, hands-on career if you are interested in science and health and have the drive and people skills to be an entrepreneur. Because graduates of our rigorous and innovative degree program are among the best trained chiropractors in the world. They are helping people and advancing the profession across Canada and around the globe.
Each year CMCC accepts 192 new students. Candidates need at least three full years of undergraduate university study, and admission is based on academic assessment and a personal interview. Applications must be received by October 31.