Cambrian College of Applied Arts and Technology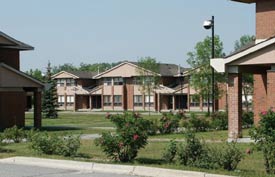 About Cambrian College
Cambrian College is a college of applied arts and technology in Greater Sudbury, Ontario, Canada. Cambrian has over 4,400 full-time students enrolled in business, applied arts, human services, health sciences, technology, communication and creative arts, hospitality and tourism, apprenticeship, skills, and trades, with an additional 8,000 registrations taken annually in part-time personal, professional and human resources development courses and seminars.
The College offers approximately 90 full-time programs, a number of which are designed specifically for the Native community, and about 800 part-time continuing education programs, courses, seminars, customized training packages, and distance education opportunities. A number of these programs and courses are delivered in a distance education format-through teleconferencing, independent study, and the Internet.
Cambrian's commitment to its many communities is evidenced by the Anishnaabe Studies Division, the College's centre for the advancement of Native education, by its status as a leader in the field of employment and education equity; and by its status as a leader in meeting the needs of persons facing a variety of learning challenges.
Cambrian exemplifies the Canadian mosaic with about 360 First Nations students and a remaining population that is reflective of the multi-cultural community the College serves.