Lambton College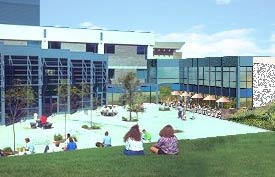 About Lambton College
Lambton College is a Canadian college of applied arts and technology in Sarnia, Ontario. Lambton College is noted for its strength in the Technology and Applied Science department because of its location in Canada's Chemical Valley. Additionally, it is the only school to house an industry fire house in Canada.
At Lambton College, we are committed to helping you find success in your education, career and life goals. We understand the path you choose for post secondary is an important decision and because of that we continue to make multi-million dollar investments which will enhance your learning experience and provide you with the skills and attitudes you need to succeed.
As part of this commitment, we recently opened the new Skilled Trades Training Centre, which enabled us to offer even more apprenticeship and trades programs. We are now in the planning stages for the opening of the Suncor Sustainability Centre, which will not only serve an array of purposes for students and industry, but also allow us to bring the sustainability practices to all members of Lambton County. We have also improved our library, computer labs, student study areas and residence.
Our program development team has been working hard and we are pleased to be launching three new programs in September 2007 - Construction Carpentry Techniques, Pre-Degree First Nations and Autism & Behavioural Science. In September 2008, we will be launching five additional programs - Chemical Production & Power Engineering Technician, Developmental Disabilities Certificate, Events Management Certificate, Technical Sales Specialist Certificate and Esthetician Diploma.