Royal Military College of Canada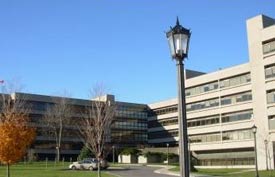 About Royal Military College of Canada
The Royal Military College of Canada is the military academy of the Canadian Forces and is a full degree-granting university. RMC is the only federal institution in Canada with degree granting powers. Located on Point Frederick, a 41-hectare peninsula in Kingston, Ontario, the college is a blend of older, historic buildings and modern academic, athletic and dormitory facilities.
Today, the RMC mission is to educate, train and develop Officer Cadets for leadership careers of effective service in the Canadian Forces. For most students, education is free and a monthly salary is paid which meets incidentals. The courses are offered both on site and by distance learning in both official languages: English and French.
RMC offers 20 undergraduate degrees, and 34 graduate opportunities, including 14 doctorates. In addition to the Faculty (university) of Arts, Engineering, and Science, the Division of Continuing Studies offers undergraduate and graduate level programs including the "Officer Professional Military Education Program" .
First Year cadets are required to keep an exceptionally high standard of dress and deportment. They are required to march at all times. Physical Training is conducted, with long runs up neighbouring Fort Henry, Ontario hill a frequent occurrence. Inspections of room standards and dress are also frequent. For the duration of FYOP, First Years are not permitted to leave RMC or receive visitors. Mail and phone calls are allowed but are limited.