The University of Waterloo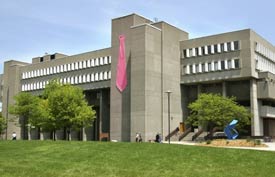 About The University of Waterloo
The University of Waterloo is a research-intensive public university in the city of Waterloo, Ontario, Canada. The main campus is located along University Avenue in Waterloo, Ontario on, what was until the 1960s, farmland. Since its creation, a considerable level of commercial and residential development has built up around the Waterloo campus, notably with many offices of high-tech firms.
More Canadian high-tech and knowledge-based spin-off companies trace their roots to the University of Waterloo than to any other school, and as such, the University of Waterloo and the Waterloo region is often called the "Silicon Valley of the North".
Waterloo is famous for being a groundbreaking proponent of co-operative education in Canada and currently maintains the largest co-op program in the world. In the official annual national university report by Maclean's, the University of Waterloo has placed best overall out of 47 universities in Canada for the past 13 of 15 years since the survey began.