Wilfrid Laurier University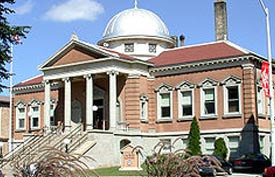 About Wilfrid Laurier University
Wilfrid Laurier University is a public university located in Waterloo, Ontario, Canada. It also has campuses in Brantford, Ontario, and Kitchener, Ontario. Wilfrid Laurier University has faculties of the Arts, Science, Education, Music, and Social Work, and a School of Business & Economics. Although comparatively small, the university has consistently ranked among Canada's top schools in its category.
Wilfrid Laurier University offers a high quality undergraduate education in the Liberal Arts, Science, Business and Music. Wilfrid Laurier Universitygrads get jobs, with 94.3% of their recent graduates securing employment within six months after graduating,
In September 2006, the first year students had an incoming average of 81.4%. Wilfrid Laurier University's co-op programs within the Faculty of Arts, the Faculty of Science, and the School of Business and Economics, present students with the opportunity to pair quality work experience with their academics.
Wilfrid Laurier University is the current headquarters of the Academic Council of the United Nations System (ACUNS) which was previously hosted by Yale, Brown and Dartmouth. The ACUNS goal is to strengthen the study of international organizations and to create strong ties between the academic community and diplomats within international organizations.