St. Clair College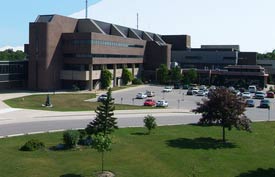 About St. Clair College
St. Clair College of Applied Arts and Technology is a College in the southwestern Ontario counties of Essex and Chatham-Kent. Its main administration and largest campus sites are in Windsor, Canada.
The college has since expanded its degree-granting status to include programs in Nursing, Medical Laboratory Sciences and Early Childhood Education. Under the leadership of Dr. Strasser, the College has introduced a number of varsity sports to the campus including women's basketball (which won the OCAA championship in 2004), men's varsity volleyball, a curling team (which won the OCAA championship in 2004) and men's hockey team which won two consecutive OCAA championships in its first two years back on campus.
Today, St. Clair College is known as Canada's southernmost postsecondary education facility, where more than 20,000 people a year come to enhance their knowledge. The College is focused on graduating people with highly employable skills who are positioned to contribute to the growth and success of our economy, within our community, across the country and around the world. St. Clair College " Our Focus Is You.