Quest University Canada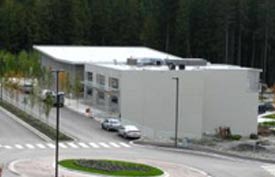 About Quest University Canada
Quest was created May 29, 2002, following the passing of the Sea to Sky University Act by the Legislative Assembly of British Columbia, and adopted its current name in October, 2005. The University has adopted "intimate, integrated, international" undergraduate education as its mission statement. The University was founded by Dr. David Strangway, former President of the University of British Columbia and funded primarily by Canadian Geologist Stewart Blusson. In September 2007, Thomas Wood, former President of Mount Royal College was appointed to succeed Dr. Strangway for a one-year term.
The campus is built on a 77-hectare (190 acre) site that includes academic buildings, a library, a recreation centre, and student residences. The campus design reflects a significant concern for the environment; it includes geo-thermal heating and cooling.
Quest's approach to academics is rooted in the liberal arts tradition, emphasizing breadth as well as depth. During the first half of the program, students are required to take 16 "Foundation" courses, which are distributed among four broad disciplinary areas: the Humanities, the Life Sciences, the Physical Sciences, and the Social Sciences. The second half of the program is devoted to concentration (major) courses, and experiential learning, which emphasizes non-classroom-based learning, including work experience, study abroad, and a Capstone project. With limited enrolment and resources, Quest's focus is academic rather than social or athletic, but it does field Varsity men's and women's teams in basketball and soccer.
In 2007 Quest introduced women�s and men's varsity basketball teams, which play in the British Columbia College Athletics Association. Quest announced the introduction of women�s and men�s varsity soccer teams for fall 2008. Martina Franko, a Canadian national soccer team player and a member of the Canadian Olympic team that competed in Beijing 2008, joined Quest as the varsity women's soccer head coach in January 2008.
British Columbia Universities