The University of Northern British Columbia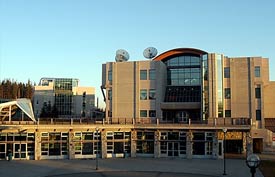 About The University of Northern British Columbia
The University of Northern British Columbia is a small, research-intensive university whose main campus is in Prince George, British Columbia. Much of UNBC's research focuses on the social, economic, environmental, and cultural issues of the North. This has led to the establishment of world-class research in such areas as Natural Resources and the Environment; Rural, Remote, and Northern Health; and the Sustainability of Communities.
UNBC attracts students from across the province and around the world because of its small size, high-quality academic programs, and friendly atmosphere. They stay because of many enriching opportunities, such as being involved in research, working closely with professors and other students, playing on athletic teams, participating in student exchanges, and gaining employment skills through work terms and internships.
UNBC was the first university in North America to have fibre-optic cable connecting every classroom and laboratory on its campus. UNBC also boasts campus-wide high-speed wireless internet access, as well as a powerful one-gigabit per second network that allows for live lectures between medical classrooms in Vancouver, Victoria, and Prince George.
British Columbia Universities