The University of Victoria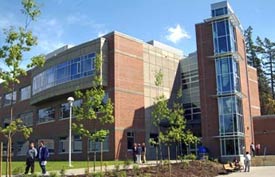 About The University of Victoria
The University of Victoria is one of the leading universities in Canada. For 40 years, it has been known for its rich and supportive learning environment for students and faculty. UVic is also a recognized leader in the field of research. It is known for its strengths in the arts and sciences and selected professions such as: society and health, oceans and climate, matter and energy, indigenous and cultural studies, global change and sustainability, genomics and proteomics, fine and performing arts, computational modeling and information processing. Furthermore, UVic values outstanding teaching and community involvement. At present, it ranks consistently among the top comprehensive universities in Canada.
University of Victoria is located in the city of Victoria, the capital of British Columbia, on Vancouver Island which is part of Canada's magnificent west coast. The 160 verdant hectare campus is 15-minute away from downtown Victoria. It is very accessible by car, bus, and bicycle, and is very close to the ocean. The campus is home to the forested Mystic Vale ecological protection area and the University's Finnerty Gardens, which is internationally-acclaimed for their outstanding collection of plants.
As of 2006, UVic has 4,124 employees including 790 faculty, 455 sessional instructors, 677 specialist/instructional staff, and 2,202 support staff
UVic Co-op Education
Aside from the traditional programs, UVic also has co-operative education program, which incorporates academic studies with relevant paid work experience in more than 40 academic areas. They also have nearly 100 exchange programs 25 countries around the world, hence providing students with rich opportunities for international learning.
UVic also takes an interdisciplinary approach to teaching. They have 13 interdisciplinary program students can choose from.
British Columbia Universities