The University of British Columbia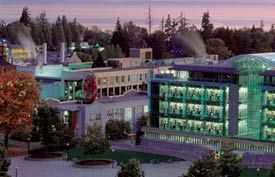 About The University of British Columbia
UBC is a premiere educational institution in Canada that has been preparing students to become highly competitive global citizens for almost 100 years. Newsweek Magazine ranked UBC 27th among the best universities in the world in 2006.
Since its inception in 1908, UBC has striven to provide its students with the best possible resources and conditions for learning and research. It has partnered with government, business and educational institutions to apply new discoveries and methods, to prepare students for fulfilling careers and to improve people's way of life through cutting edge research and technology.
UBC Campuses
UBC has four campuses namely, UBC Point Grey, UBC Robson Square, UBC's Great Northern Way Campus, and UBC Okanagan.
UBC POINT GREY CAMPUS
The UBC Point Grey is the main and largest of all campuses. This 402 hectare campus is located at the western part of Point Grey Peninsula and is 30 minutes away from the city of Vancouver. It is surrounded by 763 hectares of forested parkland. UBC Point Grey is just a stone's throw away from the city's major attractions and recreation facilities such as the Museum of Anthropology, the Chan Centre of Performing Arts, the UBC Botanical Garden and Centre for Plant Research.
UBC ROBSON SQUARE
UBC Robson Square is located in the heart of downtown Vancouver on Robson Street between Hornby and Howe Street. Among its course offerings are humanities, technology and management programs.
UBC'S GREAT NORTHERN WAY CAMPUS
UBC's Great Northern Way is a 6.6 hectare campus situated in the southeast of the downtown Vancouver core. This campus is a collaboration of UBC, Simon Fraser University, Emily Carr Institute of Art and Design, and the B.C. Institute of Technology. The venture will foster innovative education and research initiatives by providing an integrated environment with training and education programs offered by each partner.
UBC OKANAGAN
UBC Okanagan campus is the youngest of all the campuses. It opened in 2005 and is located near the growing city of Kelowna in British Columbia's beautiful Okanagan Valley. It is a 260-acre campus with 0.5 million square feet of building space which is expected to increase to 1.5 million by 2010.
UBC Campus Living
UBC also offers housing to its students. The average room board is $6,600 to $7,600 per school year. The estimated educational and living costs could range from $ 9,000 to $ 28,000 (full first year course load; depending on the course and accommodation type).
British Columbia Universities