Royal Roads University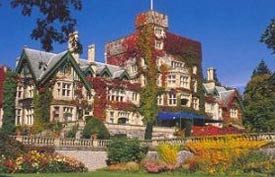 About Royal Roads University
Royal Roads University is a public university located in Victoria, British Columbia, Canada. Royal Roads offers applied and professional programs at both the undergraduate and graduate degree level. The various programs are offered on-campus and online. Paired with the online program offerings is a residency for the degree programs ranging from one to three weeks, and are held on-campus. Programs of study include business, leadership, environment and sustainability, tourism, information and society, peace and conflict management, and communication and culture.
Royal Roads has developed unique interactive and collaborative tools that foster teamwork even when learners are scattered across the country or around the world. The university uses technology to extend and, in some cases, improve interaction and communication among learners and with faculty members.
Many of the graduates of RRU's international MBA program in Asia are senior business people and government officials whose positive association with Royal Roads helps to pave the way for further business and other economic partnerships between Asia and Canada " B.C. in particular.
British Columbia Universities