Simon Fraser University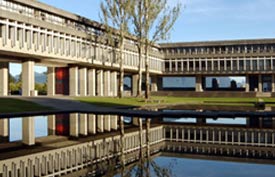 Simon Fraser University History
The SFU was founded in September 9, 1965. It was named after the explorer who charted Canada and founding father of British Columbia, Simon Fraser. After just two and a half years from its idea stage, it grew into an almost-completed university of 2,500 students. Hence, it was called the "Instant University".
For over 40 years, it has served about 26,000 students and 90,000 alumni. It houses roughly 700 experienced and highly qualified faculty and employs 1,100 administrative and support staff. It has been ranked as one of Canada's most comprehensive university.
Simon Fraser University has established a reputation of excellence in the field of education. It values intellectual and academic freedom and champions the liberal arts, sciences, interdisciplinary and professional programs. SFU believes that personal mentoring and lifelong learning opportunities is vital in building a robust and ethical society.
Simon Fraser University Accomodations
Simon Fraser University offers housing services. It has six residences that parents and students can choose from and the rates vary depending on the type of accommodation. Residence fees may range from $733.00 to $2,500.00 per term. This is exclusive of high-speed internet, telephone, parking, meals and association fees
SFU Campuses
Simon Fraser University has three distinctive campuses: SFU Burnaby, SFU Surrey and SFU Vancouver.
SFU Burnaby
Burnaby is the original and main campus. It is located at the top of Burnaby Mountain, a 30-minute drive from downtown Vancouver. It has an area of 430 acres or 174 hectares, buildings with total floor area of 2.8 million square feet
and an elevation 1,200 feet. It has a nice view of Burrard Inlet and the Lower Mainland.
Presently, SFU Burnaby is expanding. It is building a new community in a 65-hectare land adjacent to the campus. The new community would be called UniverCity. This area includes a wide range of housing options as well as new commercial, community, and recreational facilities.
SFU Surrey
The SFU campus is situated at the heart of Surrey, one of Canada's fastest growing communities. It consists of 104,000 square feet in area.
There are currently 1,100 undergraduate and 100 graduate students at SFU Surrey. The Surrey campus provides undergraduate programs in arts and social sciences, interactive arts and technology, computing science, science and business administration, a graduate program in interactive arts and technology, as well as continuing studies and education professional development programs.
SFU Vancouver
The Vancouver campus is located in downtown Vancouver, at the corner of Hastings and Richards. It opened in May 1989, in the historic Spencer Building at 515 West Hastings Street, and was mostly funded by the private sector. It has a total area 210,000 square feet.
The Vancouver campus currently serves more than 60,000 people annually: each semester approximately 1,800 undergraduates and 400 graduate students attend the campus. Furthermore, hundreds of individuals, groups and companies take advantage of mid-career education opportunities and public programs, or use the campus for community, corporate and other meetings.
British Columbia Universities